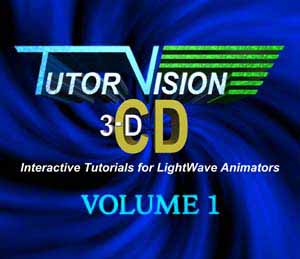 Information about TutorVision 3-D CD Volume 1
TutorVision 3-D CD Volume 1 was the first interactive, multimedia tutorial CD-Rom available for users of NewTek's LightWave3D.

As of December 15th, 1998, a brand new version of this CD is shipping on a CD-R disc. &nbsp This new version adds PowerMac compatibility, elliminates a number of bugs, and significantly improves the overall performance!


Volume 1 contains the following:


Video Tutorials
6 different tutorials in AVI video clip format that you can easily view on your PC's monitor, with no need for a VCR or other video playback device. Each tutorial has an average length of 30 minutes for a total of more than 3 hours of Video Tutorials! &nbsp All Video Tutorials on Volume 1 are recorded using LightWave v5.0.

CLICK HERE to see the tutorial topics covered on
TutorVision 3-D CD Volume 1
Text Tutorials
6 different tutorials and miscellaneous LightWave tips that you can read through the TutorVision3D interface or print out with your favorite word processor program. If you don't feel like reading the tutorial yourself, then the TutorVision3D narrator will read it for you!


Reviews & Interviews
A video Interview with Alan Chan, one of the Digital Domain animators that worked on Titanic!


Product Showcase
Check out some popular LightWave compatible products that are available on the market right now. &nbsp Complete with images, animations, and all available product info.


Animators Showcase
See numerous samples of work from other LightWave3D users around the world. &nbsp There are dozens of still-frames and a handful of AVI format animations. &nbsp All work includes information about the artists that created it and how to get in touch with them.


Objects & Images
A dozen high-quality Objects in LightWave format with rendered AVI previews of what they look like in action. &nbsp A dozen original Image maps in different file formats, ready to be used within LightWave3D.





Also included on this volume of TutorVision 3-D CD are all of the objects, images, and scene files for each of the Video and Text Tutorials!


System Compatibility
Here's what you'll need to run any volume of TutorVision 3-D CD


PC
Fast Pentium-compatible processor
16mb RAM (more is better)
Fast CD-Rom drive (4x minimum)
Windows95 or WindowsNT

Power-Mac
Fast PowerPC processor
16mb RAM (more is better!)
Fast CD-Rom drive (4x minimum)
System 6.0 or greater (System 7.5 recommended)
DEC Alpha
Fast 21164 processor is recommended
You will need to have the latest version of FX!32 installed.
16mb RAM (more is better!)
Fast CD-Rom drive (4x minimum)
WindowsNT
Read a REVIEW of TutorVision 3-D CD Volume 1


TutorVision 3-D CD Volume 1 is available NOW for only $49.95!
NEW LOW PRICE = $30.00!!

Check the Ordering Information page for special package prices on ALL TutorVision3-D volumes!

---




Order Information: CLICK HERE to place an order with our ON-LINE CATALOG





Back to the tvcd.com home page


---
Event Horizon Studios

Contact Info

This web site created and maintained by Event Horizon Studios
Unless otherwise noted, everything on this website is:
Copyright © Event Horizon Studios, all rights reserved.