The Million Uses of Fractal Noise - Page 1
by Eki Halkka ( erkki.halkka@kolumbus.fi)


---
Hi again folks. In this tutorial we will have a closer look at the use of LW procedural textures, especially the ever popular Fractal noise.

Yes - Fractal Noise!!

The mother of all procedurals ;-)

This is written for LW 5.6, but most of this stuff should be useful for L6 too, i hope.

Here we go ;-)
1. An overview to procedurals, and where they can be found
First, let's look at the Surfaces > Color texture > Texture type panel: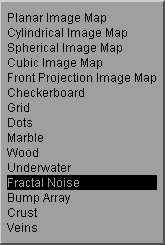 The five top ones are the image mapping methods, and the lower ones are the procedurals.
These are all available for each surface attribute (Color, Luminosity, Diffuse, Specular, Reflectivity and Transparency) except for the bumpiness of the surface. (They can also be applied as a clip map.)
Bump texture introduces two new procedurals, Ripples and Crumple, but the only other common nominator to the above is the fractal noise.
This also applies to the displacement map, though the crumple texture is not available there (Which is sad!):

So, the first thing to be noticed about fractal noise is that it is present in all the places where a texture can be applied.
(For some of the other procedurals, the bump mapping can be applied straight from the other channels, ie. color.)


Next: The 10000000 uses of fractal noise
---
Support Our Sponsors!