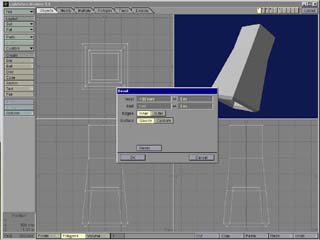 A 1-meter cube with the bottom polygon beveled several times to create the hollow cone object.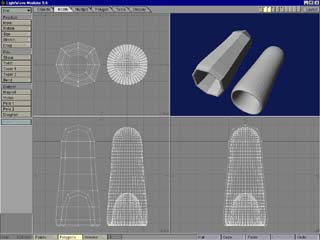 The cone object metaformed one time on the left and 3 times on the right.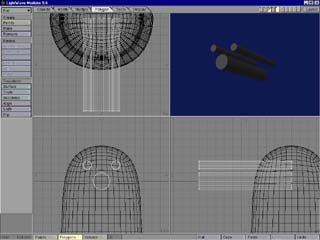 The stenciling object used to create a face pattern of polygons on the ghost head.
Prepare to Bevel
The first step is to create the basic geometry in modeler, which we can complete, using only three tools: Make box, bevel, and metaform.

Step 1: Make a 1-meter box. From the objects menu, select box. Use the default values of -500mm, -500mm, -500mm and 500mm, 500mm, 500mm. Click on OK and then hit ENTER to make the box.

Step 2: Select the bottom polygon of the box and bevel the basic shape of the Ghost. With the bottom polygon selected, hit the 'b' key to bring up the bevel box. Set the bevel inset to -100mm, so that it flares outward when it bevels, and set the shift amount to 1 meter. Bevel the polygon twice with these same values. Bevel once again but change the values to 100mm inset and 100mm shift for a more conventional bevel. Bevel again with a 100mm inset but a -100mm shift so that you have a nice lip on the bottom. One final bevel with a 100mm inset and a -1 meter shift gives the object a nice skirt. That is all for beveling. You should have an object that looks vaguely like a tall boxy shuttlecock.

Step 3: Make the object smooth. Go to the polygon menu and select Subdivide. In the Subdivide polygons option box select Metaform and make sure the maximum smoothing angle is set at 179.0 degrees. Apply Metaform to the entire object three times. This gives you a reasonably smooth Popsicle shaped object. Click on the Surface button and name all the polygons 'Ghost' and save the object.