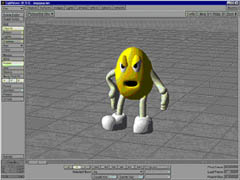 Stringing Your Puppet
- A PuppetMaster tutorial by Patrick Woods

This tutorial is included on TutorVision 3-D CD Volume 2 but is being reprinted here to better serve the LightWave community, since a number of people have been asking for help with PuppetMaster.

PLEASE NOTE: all of the objects and scene files for this tutorial are included on the TutorVision 3-D Volume 2 CD-Rom. &nbsp If you would to get these files, then CLICK HERE to place your order for the CD!